Registry Trust Manager™: RTM
What is Registry Trust Manager™?
RTM anchors on the trust of a Brand Registry to protect your data and keep customers safe. It's a control system to authenticate network connections and ensure data‑in‑motion encryption
RTM solves the common problems of weak authentication and broken TLS encryption instances that put data-in-motion at risk.
---
A secure and trusted network
Your Brand Registry is a trusted, authentic space with superior security capabilities over generic TLDs. RTM uses your Brand Registry to encrypt and authenticate connections to every enabled network endpoint. Brand TRUST is assured with data-in-motion protection.
---
RTM FEATURE SUMMARY
Automated, trust certificates at each endpoint
DNSSEC management automation
Connection monitoring and remediation
Policy based DNS security enforcement
Protection from people errors/omissions
Cost effective and massively scalable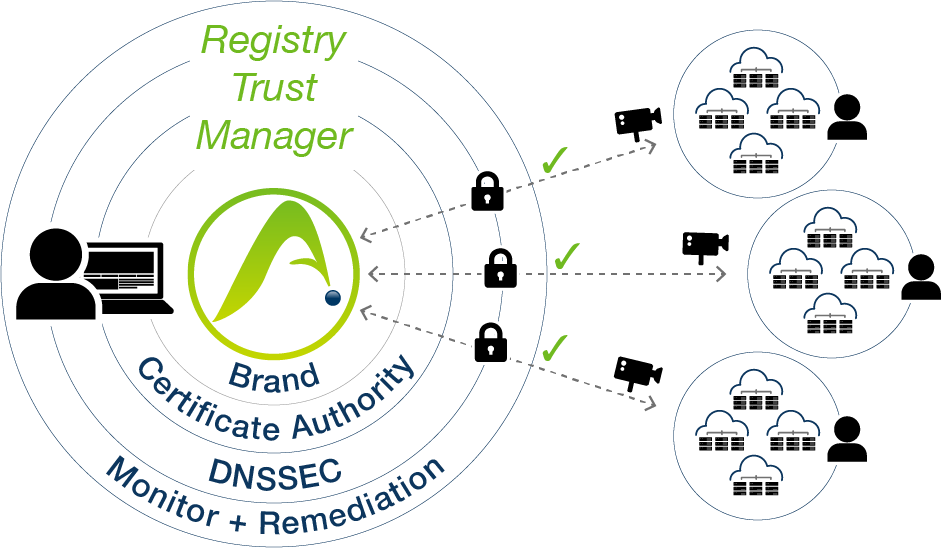 ---
Protect your company data and keep customers safe
Mitigate security risk
Ensure lifecycle integrity in server-to-server/ client authentication and DNS security, eliminating risks to TLS and DNS.
Regulatory compliance
Enforce use of DNS security settings & TLS certificates, with tamper-proof audits, alert digests, remediation and permissioned access.
Automation efficiency
Managed workflow, configurable, default DNS settings and automated tools to reduce compliance costs and boost staff efficiency.
Monitoring & remediation
Maintain real-time vigilance over all network endpoint connections with alerts, connection suspensions and ease-of-resolution.
Enforced security
From SSO, 2FA and whitelisted access to CA, SSL and DNSSEC provisioning; ongoing monitoring and alerts to enforce security.
Identity access
Integrate applications to with x.509 identity and authentication to manage systems access in dynamic network environments.
---