Domain Name Asset Manager: DNAM™
What is Domain Name Asset Manager?
DNAM™ is a unified, integrated control system for managing domains, DNS and TLS certificates. It's an easier way to secure and manage corporate domains and the DNS
Organizations have few options to manage their domain assets. The choices are:
Disparate, non-integrated, registrar and DNS admin portals
TLS certificate provider admin portals
Corporate registrars with locked-in professional service contracts
---
DNAM changes the game.
It's the first unified, central control hub that lets your team easily manage all of your domain-related assets and services in one, secure system.
Access Security Control
Corporate Domain Registrar
Zone Visibility Digital Health
DNS Security Policy Enforcement
DNS Security Management
Compliance Audit
Transaction Cost Accounting
Enterprise DNS with Secondary + Redirect
Integrates Workflow Task Management
DNS Analytics
Digital Business Intelligence
Change Management Digests
Hierarchical Ownership
---
DNAM delivers.
Consolidates domains and DNS to a single system
Automates domain, DNS and TLS cert workflows
Enforces role-based, secure access
Exceeds compliance standards
Exceeds compliance standards
Most organizations use manual processes to manage domains, DNS and TLS Certificates across multiple vendor platforms.
---
A single, unified, change management platform has many benefits
A platform delivering control, visibility and automation resolving the inefficiency and pain of managing a corporate domain portfolio. Our modern technology empowers teams with business intelligence, easy to use tools and business workflow to execute change.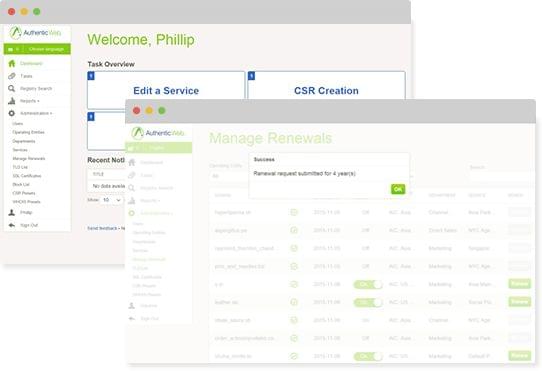 Control
Typical corporate domain management processes are inefficient and costly to the organization. End-to-end domain, DNS and TLS certificate management involves dozens of time-consuming steps across numerous internal stakeholders. DNAM gives every (permissioned) stakeholder an easy way to gain control over domain, DNS and TLS certificate management – for the entire life of each domain.
DNAM solves domain management control
Our system-based domain management workflows are more efficient, while maintaining centralized control. Consolidating your domains, DNS and TLS certs on DNAM reduces effort and cost while improving security and compliance.
---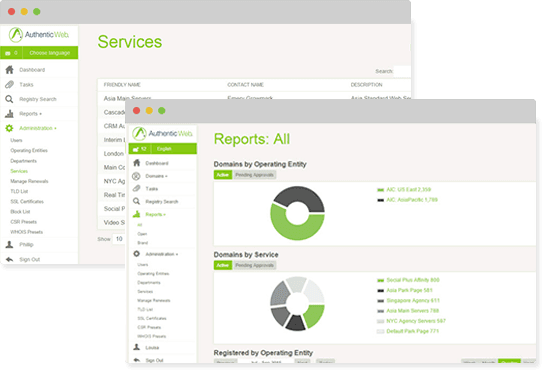 Visibility
How many domains do you own? How many registrars do you use? How many were registered this week, last quarter or year. Where do your domains resolve? Are they all resolving correctly and how do you know? What is your DNS traffic flow and how do we analyze and adjust to improve domain health? Who in the business owns these digital assets?
DNAM solves domain and DNS visibility
Gain visibility and intelligence with activity reports and DNS data insights your teams need to make fast, smart decisions. Action data intelligence with easy to use execution tools designed for leading brands in the new TLD era.
---
Automation
Legacy domain and DNS admin portals are disconnected from business users. Hours are wasted and errors kill productivity as teams struggle with manual processes, spreadsheets, email requests and forms. A simple domain request, DNS change or TLS cert update can be laborious.
DNAM solves manual, non-automated tasks
DNAM centralizes and integrates domains, DNS and TLS certificates under a unified workflow. System-based automation empowers digital marketing to execute with agility while reducing workload burden on IT.
---
Take a DNAM feature tour
Authentic Web is an ICANN Accredited Registrar. We cover over 1,000 TLDs and growing. Our complete name space coverage allows enterprises to consolidate their domain portfolios to a single secure enterprise registrar and digital identity platform.
Authentic Web manages all top level domain needs of our customers. We support legacy, country code and new TLDs. In circumstances where systems cannot be fully integrated to manage TLDs programmatically, we offer full concierge services to manage these outlier TLDs.
Our business focused structure is designed to map ownership and costs of digital assets(domains) to your operating entities, department and functional purposes. Customizable to meet your current and evolving business structures that change over time due to reorganizations and acquisitions.
As an advanced enterprise platform, we support secure access protocols including SAML Single Sign On (SSO), two-factor authentication and IP whitelist. These protocols keep your digital assets secure from nefarious actors and ensure user access integrates with established practices.
Designed to provide users the permissions and only the permissions they require to execute their job function our role-based permission structure separates the users from manager and executive roles. Manage your portfolio with one person assuming all roles or set up cross-functional teams with varying levels of need and authority access to improve execution performance.
Domains are a pain and consume internal cycles. Legacy systems are disconnected from back-end business information systems or front-end content or digital experience systems. Authentic Web automates with an innovative approach to domain service provisioning and de-provisioning. We offer full integration capabilities to leverage core business and infrastructure systems to automate provisioning. Reduce error rate and improve team business agility to respond to market conditions.
Enterprise workflow and task management functions allow digital identity managers to lock down process programmatically, provide history of audit records and support the dynamic nature of a domain portfolio with change management control, visibility and automation. Address public company requirements for Information Technology General Controls (ITGC).
Automated notifications to manage the business of domains is critical to keep team members informed of change and to support new change requiring actions. Select system notifications or receive an email when something changes or is completed, so you stay plugged in to the evolving portfolio health.
You cannot manage and improve what you cannot measure. Authentic Web brings brand identity managers, their reports and executives business intelligence with trend reports, drill in and full data access on portfolio activity and DNS usage leaders need to make fast and smart business decisions.
In traditional environments domain costs are lumped into one budget, typically with IT and/or Legal. Domains are digital identities, established for the purpose of departmental and operating entity initiatives. Authentic Web systems allocate ownership and costs appropriately with a simple tool for finance managers to gain visibility into and allocate costs as they see fit.
Our system logs every action and change throughout the lifecycle of a domain with the ability to append and archive domain request support files. Highly valuable to enterprise change management and ITCG compliance processes.
Domain Name System Security Extensions are available as required by clients for Top Level Domains that support DNSSEC. This technology provides a chain of trust. It is particularly valuable to ensure server connections where device authentication and data transport security is critical to the use case.
Purchasing SSL Certificates is just the start of being able to manage SSL certificates at any scale. Authentic Web systems manage the process for requesting and generating CSRs, generating and storing private keys and managing and storing the certificate inventory. Ask about our self-certified approach.
Registrar lock defaults on to protect your digital assets. As a second level of security and where available, Authentic Web supports full registry lock, which we strongly advise for any domain used for active business and definitely your flagship domains.
Authentic Web offers a full enterprise grade DNS infrastructure to clients seeking to outsource DNS to a top DNS infrastructure. We partner with the best in the world networks and make the simple add, edit and delete function available to IT users. Authentic Web also offers integration opportunities should you seek to maintain your current infrastructure or as your DNS needs evolve, we evolve with them.
Authentic Web systems are designed to be your digital identity control hub. Our completely reengineered domain system rethinks what it means to manage dynamic digital identities. To accomplish this business requirement, our platform includes a robust Service Connector Framework (SCF) to support integration to client back-end business systems and/or front-end digital marketing services. Other domain registrar systems are functional silos. Authentic Web connects your domain creation, provisioning, edit and data visibility reporting.
As an enterprise company our Master Services Agreement includes a strong commitment to Service Levels. We are fanatically committed to our SLA to deliver the highest quality service levels you and your teams demand of your vendors.
---