Brand TLDs & Digital Strategies
Now that's a .BRAND Use Case!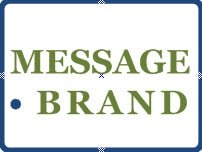 You have likely seen the presentations on the game changing use case opportunities for a .brand TLD.  They are compelling and will over time be broadly deployed. They include use cases such as; channel.brand, customer.brand and service.brand … These are big hairy changes, grand in scope and objectives, impact many internal stakeholders and as a result hard to execute.  Let's stop for a moment. Let's think about use cases differently, parking the game changing strategies.
Let's go inside the trenches of day to day, hand to hand marketing campaign combat in the battle for the subscriber and uncover a simple ROI generating use case.
John is the Senior Director, Marketing at a big brand.  He and his team have sophisticated content management systems in place, a crack creative team and budget.  They do good work but 'cost of acquisition' target metrics are elusive.
They compete in a market with two strong competitors. The three giants duke it out over the airwaves, print and digital media, all on a mission to compel and convert subscribers from each other. It's a tough game with a constant and evolving need to differentiate.
A new tool is now available to John. It is their .BRAND registry. It's exciting as it offers opportunities to engage differently.  John and his team are preparing for their fall/winter campaign strategy.  They think it will really resonate for the Back to School and Christmas buying seasons.
It is summer now and they are 15 days into a summer campaign. It's working. The messaging is centered on 'SUMMER FUN', key messages around activities; outdoors, music, water, vacations, etc.  A real feel good kind of deal.  During spring planning they did not have the .BRAND asset operational.  All the engagement properties are built on the traditional;  www.brand1.com/keymessage.
THEN IT HAPPENS.
A competitor launches their own 'SUMMER FUN' campaign with heavier weight in radio and metropolitan print. 'Grrhhh, that's our messaging'.  The competitor is leveraging our good messaging for their own and overnight John starts seeing response and lead run rates dip.
John holds an emergency meeting to form a plan.  The team gathers the competitor messaging and identifies the heavy weight media placements and they craft a clever rapid response plan.  Since they already have the 'SUMMER FUN' creative assets, trained radio talent at the ready, they decide to put .BRAND to work now.  The competitor is benefiting from our messaging and voice. The team devises a plan to beat them at their own game. We will bring it back and piggy back on their spend and in effect broaden our reach using the new .BRAND asset.
Project "ECHO" begins.
During the meeting John's marketing coordinator requests five new domains, all "keymessage.brand" to serve as destination engagement pages.  These five because already they are showing best in the existing campaign and are related to the main messages the competitor is using.  John approves the registrations and the domains provision to host servers based on pre-sets configured by IT last week.  Easy. Fast. Error Free. We are ready to go. 
The creative guys spin up some destination html on the names that are representative of the key messages and consistent with the overall campaign position.  They load it up in the digital asset management system and get ready to publish.  Copywriters punch up some 15 second spots for radio.
John calls the agency, orders an emergency radio spot production, revised print ads based on the new creative and places a media buy directly opposite the competitor placements.   
John calls Cheryl, his peer in sales and Denise, his peer in operations and says; "Get ready, we are AMPING up the campaign in two days."   John pushes the big red button.  Within two days, ECHO is up and running. Everyone holds their breath.  
Bull's eye!   The existing campaign still running got a huge boost. Overall traffic triples, lead and conversion rates grow by a factor of four. Home run!  Cheryl's sales team are loving the volume and improved quality of leads.  Why did this work?
John was able to create the exact key message domain destinations that represented the campaign. They were simple, unique and memorable.  ECHO as able to borrow the competitor's market reach and the target market remembered ECHO destinations vs. the competitor's forward slash gobbledegook.  It was particularly effective in the radio response rates.  Lead quality and conversion improved because the engagement pages at 'keymessage.brand', were exactly as the prospect expected and therefore resonated better. 
John congratulates the team on their agility.  Cheryl sends the marketing folks a big well done and CEO Mark takes notice.  He jumps on it and starts to inquire how this new .brand asset is the way for us to really differentiate.  He calls an executive meeting.  John, newly promoted, sits in proudly.
Now that's a use case.